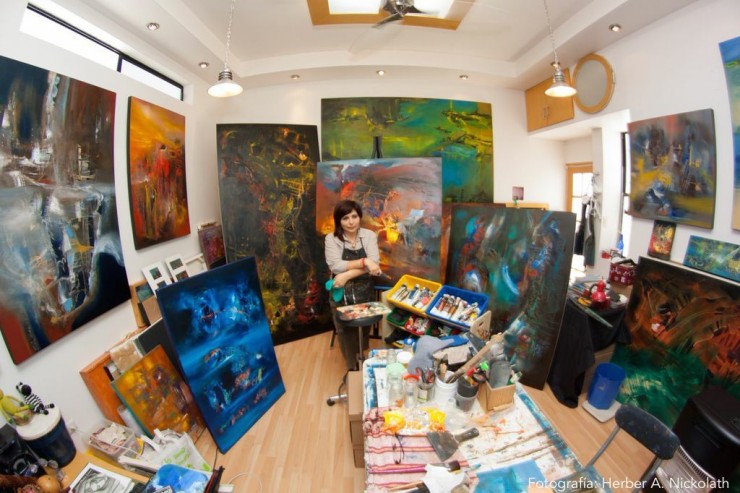 Veronica Leiton put on synchrony of invisible worlds, through the exhibition of 30 paintings with a different plastic proposal in which the contrasts as cold and heat, light and shadow, in combination with the color palette and dimensions integrate heterogeneous elements that come together to form the exhibition inner Worlds – external Worlds, based on the theory of the expanding universe and cosmic including a selection of pieces in oil on canvas with impeccable technique. The strokes of this great artist contribute to the representation of a macro and micro universe that expresses a visual and conceptual for all those who have the opportunity to be spectators of his canvases exercise.
Veronica Leiton, Chilean artist, living in Ciudad Juarez for nineteen years, so has the opportunity to show their creative work throughout the Mexican Republic, United States, Cuba and Chile. It has more than 40 solo exhibitions and over 80 group exhibitions. Leiton has been awarded the prize awarded by the Department of Cultural Affairs, Ministry of Foreign Affairs of the Government of Chile (2010), in 2008 he was invited to participate in the Biennial of Greece, he has been the recipient to Chihuahua 2007 Award in the category "technical arts watercolor" and won first place in the Chihuahuan Painting Competition in 2005, the year he was awarded a scholarship by the Culture Fund of Ciudad Juarez.
Malke Tapuach, director of Gallery Art XXI and interested in commemorating the 30 years of plastic path Veronica Leiton, invites you to attend the art exhibition so magnificent contemporary artist. In the opening event, on 11 September, the official presentation of the red wine Cabernet Sauvignon was made L.A. Cetto, in which the virtuous protagonist created his art in 6 different labels, each signed by her and accompanied by a certificate of authenticity, celebrating its foray into the so-called art-object.